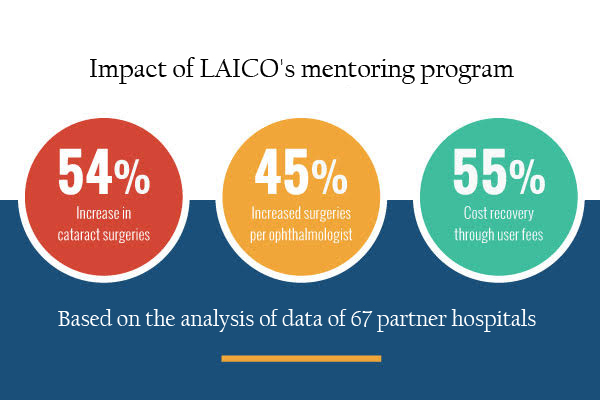 Mentoring Services:
Since 1993, LAICO has been working with eye hospitals across the world guiding them through a structure process with clearly defined goals. The process includes on-site visits by an Aravind team, workshops to develop strategies and action planning followed by intense skills development training as needed to achieve the goals set. LAICO collaborates with eye hospitals, institutions and development agencies to build sustainable eye care programmes, through a structured mentoring process.(See the list of few of our previous Mentees) For any queries Contact: laicoconsultancy@aravind.org
Mentoring process

Capacity building is an ongoing process and has long-term impact on organizational efficiency and effectiveness. This process when internalized helps to improve performance through efficient use of available resources, stimulate forward thinking, solve major organizational growth problems, mobilize required resources and become financially viable.
Close working support and involvement of a team from LAICO and Aravind Eye Hospital will help develop and implement systems and procedures, both in clinical and non- clinical areas that will strengthen the capacity of hospitals to offer cost effective, good quality and sustainable eye care services.
Click the link to know more about our mentoring process.
LAICO offers a range of services, tailored to each organization's needs. The process is unique and varied, based on the partner we are working with. For eye care organizations, working to serve those in need, there are always areas for improvement and we have deep experience in organizational introspection, data analysis and use, continuous innovation and systems implementation. Our wish is to collaborate with all of our partners towards advancing eye care in their communities. The services are designed for:
1. Existing Eye Hospitals
LAICO works with hospitals to improve or expand into new areas. The following are the focus areas for LAICO's existing hospital services:
Establishing eye care need
Strategy development for increasing cataract surgery volumes
Establishing an in-house training programs
Building and strengthening community partnership and social marketing
Facilitation establishment of systems for operational efficiency and enhancing quality
Information Technology support for evidence based decision making
Organisational sustainability
2. Increasing sub-specialties
Once an eye hospital reaches a certain size, there will be a need to grow beyond cataract surgeries. The significant focus areas for sub-specialties include Retina, Glaucoma, Paediatric and Cornea.
In order to expand into these sub-specialties, training is required for the doctors who will be focusing on them. An eye hospital cannot always rely on being able to recruit outside people to take on these sub-specialties. It is therefore necessary for the hospital to develop its own in-house training programs. This way, there will always be enough people in the system. LAICO's specialized mentoring services would help institutions to develop sub-specialty services.
3. New Hospitals
LAICO works with new hospitals at all stages of their development. We can work with you on area-specific development or across all aspects of your new hospital. There are two categories of service within our offerings to new hospitals: Hospital Startup and End-to-End Service.
4. Hospital Startups
If you are anywhere in the development process of a new hospital, LAICO can partner with you. Either we can work with you to assess your needs and determine which areas need the most attention (recommended), or you can request to partner with us in the areas that have been identified by your organization already.